The course goal is to introduce students to new sciences that influence the food we eat, the clothes we wear and the environment we reside in. Students are challenged to think outside the box, explore divergent and convergent thinking, and seek out knowledge and inspiration from ideas that drive nano and biotech while encouraging peer collaboration and theory to practice translation.
Final Project Book
---
Professor Victoria Vesna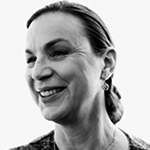 Victoria Vesna, Ph.D., is a media artist and Professor at the UCLA Department of Design | Media Arts and Director of the Art|Sci center at the School of the Arts and California Nanosystems Institute (CNSI). Her work can be defined as experimental creative research that resides between disciplines and technologies.
Although she was trained early on as a painter (Academy of Fine arts, Belgrade, 1984), her curious mind took her on an exploratory path that resulted in work can be defined as experimental creative research residing between disciplines and technologies. With her installations she investigates how communication technologies affect collective behavior and perceptions of identity shift in relation to scientific innovation (Ph.D., Planetary Collegium, 2000). Her work involves long-term collaborations with composers, nano-scientists, neuroscientists, evolutionary biologists and she brings this experience to students. Victoria has exhibited her work in over twenty solo exhibitions, more than seventy group shows, has been published in excess of twenty papers and gave 100+ invited talks in the last decade. She is the North American editor of AI & Society and in 2007 published an edited volume - Database Aesthetics: Art in the age of Information Overflow, Minnesota Press and most recently an edited volume entitled Context Providers: Conditions of Meaning in Media Arts. (co-edited with Christiane Paul and Margot Lovejoy). Intellect Press, 2011.
Academic and Technical Support
Professor Claudia Jacques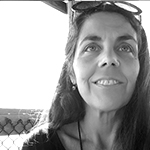 Under the lens of Cybersemiotics, Brazilian-American artist, designer, educator and researcher, Claudia Ferreira Jacques de Moraes Cardoso, MFA, PhD, integrates art, technology and science by researching and designing interactive hybrid environments that aim to explore space-time / digital-physical perceptions in the pursuit of human consciousness and knowledge expansion. She collaborates with many artists exhibiting and presenting both nationally and internationally. She has published in Leonardo, TEKs, Art & Engine, etc., and serves as Art+Web Editor for Cybernetics and Human Knowing journal. She has been collaborating with Professor Victoria Vesna since 2011 as an Information and Instructional Designer and is currently the ArtSci Center | SciArt Lab+Studio Associate Director. Jacques teaches studio, digital and communication arts, and her studio is in Ossining, NY, USA.
TA Iman Person
Iman Person's practice explores the ways in which communication, flora, and biological systems can serve as methods to mediate the self and be used to push society toward an expanded understanding of consciousness. She is interested in engaging with the soft boundaries/ boundarylessness that exist within nature, the mind, and organisms of memory to shift our prevailing views of what constitutes as the natural.
In 2010 Person received her BFA from Georgia State University and has exhibited her work throughout the United States, including The Southeastern Center for Contemporary Art (SECCA), Allcott Gallery at The University of North Carolina, and The Contemporary Art Museum of St. Louis. Internationally, she has exhibited at Ionion Center for Art in Kefalonia, Greece and SoMA Art House in Berlin, Germany. She is currently pursuing her MFA at the University of California, Los Angeles.
Here Spring 2020 office hours are
Tuesday and Thursday: 1-2 PM PT
Friday: 12-1 PM PT
You can also reach her by email at: iperson28@g.ucla.edu