By

Daniel Pinter
31 / May / 2020
Group Update:
Our group will be covering technology and economics during the Covid-19 pandemic, and we have determined the order in which we will put together our final papers in our booklet.
We will begin with the technology segment of our group:
Josh - exploration of quarantine culture and the rise of technology during Covid-19

Esther - cybersecurity

Delwyn - e-sports and video games, with a bridge to the economics segment
Economics segment:
Adam - overall economic impact, the biotech industry, and a bridge to virtual reality art and augmented reality art

Dan (me) - economic impact on the arts/culture industry, with a focus on virtual reality art and augmented reality art
Final Project Draft:
Throughout the course of this quarter, we have discussed the many different ways in which the Coronavirus has negatively impacted individuals, as well as society as a whole. Some of the impacts are plainly obvious: All UCLA classes spring quarter have been held over Zoom, and many people have had to adjust to a way of living that is much more heavily based on technology. While Covid-19 has clearly changed the way that many of us live our lives, another important aspect to consider is the economic impact it has had on the arts and culture industries. Like many industries during the pandemic, the art industry has suffered serious economic losses. However, because of the rapidly changing nature of the virus and the rise in technology over the past few years, a few new alternatives have emerged in the art sector, for better or worse.
Economic Impact on the Arts
Obviously, the Coronavirus has had a huge impact on the economy as a whole, with that impact largely being negative. Many people have been furloughed or let go entirely from their jobs, and there are many industries that have been harmed by the pandemic. Some notable industries include the airline, hospitality, and oil industries. Additionally, necessary virus containment measures such as shelter in place orders significantly decrease economic activity, further harming the stock market (Menickella). It has also been projected that it could take up to three years for the United States economy to fully recover from this crisis (Oliver).
However, there is one industry that has seen an uptick in production during this uncertain time. Due to the need for a vaccine and for accurate Coronavirus testing, many Biotech companies have risen to prominence during the course of the pandemic. While still a very volatile industry, the stock prices of many biotech companies have soared while the stocks of other large companies continue to see their prices fall (Alpert). Investigating the work that different biotech companies are doing has rightly been very prominent in the news, and the economic impact of their work is fascinating. These companies are responding faster than ever to Covid-19, giving hope both economically and socially to the world during this uncertain time. The introduction of human testing has also been at the forefront, as a photo showing a mother from Washington being given a vaccine for testing went viral in the early stages of viral testing. The speed and success in the development of a vaccine and tests for the Coronavirus is not only important for the biotech industry, but would pave the way for shelter in place orders to be lifted, which would vastly improve the state of the economy. A reopening of the economy would greatly help industries that rely upon face to face interaction; one of these industries is the art industry.
The Coronavirus has led to a largely negative economic impact on museums and other cultural hubs for art, which is shown through data collected by Americans for the Arts. Americans for the Arts has calculated data based on reports from 120,492 nonprofit arts and cultural organizations in the United States during the pandemic. While this data is not a perfect representation of the total economic impact on the arts industry, it certainly acts as a solid barometer for the overall impact. Because so many organizations in the arts sector rely on in person events, such as museum galleries and live artistic performances, there has been a clear negative economic impact in this sector. Americans for the Arts estimates that, across the organizations surveyed, there has been a roughly $5.5 billion dollar impact due to the Coronavirus, with an estimated average impact of $38,000 on each organization ("The Economic Impact"). The majority of respondents to a survey given by the same group responded that they expected there to be a severe financial impact on the arts industry and their organization in particular. Next, of the nonprofits included in the data collected, over 50,000 people had been laid off, with over one million people having been furloughed. Clearly, the arts and culture industries are economically reliant on personal interaction. Finally, in response to a survey question about art organizations surviving the pandemic, about 40% of responders were not confident that their organization would survive ("The Economic Impact"). Because of the incredible economic consequences of the Coronavirus on the art industry, many people have begun searching for solutions that allow people to still be connected to art while at home or maintaining social distance from others.
A Potential Shift
In thinking about ways that art can be consumed while also following necessary procedures in order to limit the spread of the Coronavirus, there have been a rising number of artists who have turned to working with virtual reality and augmented reality. While these forms of art are similar in that both use technology as a core aspect of one's experience, they also vary in very important ways. Virtual reality art relies on complete immersion into the particular medium, usually through virtual reality goggles or glasses. In this way, virtual reality art shuts out the physical world around someone, instead allowing that person to experience only what the artist wants them to. On the other hand, augmented reality art adds digital elements to a live view, which is usually a cell phone screen. This lets people experience something beyond their real, physical world, while still allowing them to have an interactive experience with other people. As technology has improved in recent years, virtual reality and augmented reality have become more practical applications in the art sector, and both have been utilized by prominent artists. In times like these, when many art galleries are unavailable due to quarantine restrictions, we are able to see how practical these forms of art really are, and explore their advantages and disadvantages.
Virtual Reality
While the art industry is clearly struggling economically during this time, there are steps that some places are taking to ensure that everyone still has access to art during this time. While the lack of in person viewing will certainly harm museums economically, many are taking steps to allow for virtual tours. For example, the Smithsonian has begun offering virtual reality tours to allow online visitors to view different art galleries (Grant). Despite the institution of these virtual reality programs, museums have nonetheless lost millions of dollars in revenue, and potentially could see less money in donations due to people having less free cash during the crisis (Pozarycki). However, these virtual reality tours still offer access that was unavailable to potential museum patrons in years past, offering hope for some kind of a return to normalcy. Depending on the success of the implementation of these programs, virtual reality and augmented reality could become a new form of public art viewing beyond this crisis (Birnbaum). This could potentially save art enthusiasts lots of money in travel costs, if they are really able to gain an immersive virtual reality experience from the comfort of their own homes. From an economic standpoint, it is interesting to consider how museums and other cultural hubs will try to monetize these new art forms. For example, in future years, could we see the Smithsonian charging virtual reality guests for each virtual tour of the museum?
In thinking about virtual reality as an art form, I explored how this is being utilized by contemporary artists and what programs they are using. Due to the economic crisis created by Covid-19, as I have touched upon, as well as the vastly improved technology of today's day and age, it seems as though this is a field of art that could really take off in the coming years. Due to this quarantine, people have realized the power of technology, as well as some of the health benefits of staying away from large public spaces, which could include museums and exhibitions, which are two traditional areas from which many view art. One prominent method of creating virtual reality art is the Google Tilt Brush, which is a program that can be used in conjunction with many different virtual reality headsets. The Tilt Brush allows artists to draw in a three dimensional space using virtual reality, expanding the possibilities of what they can create. A notable example of the use of the Google Tilt Brush came in a Time Magazine project, where artists from many different disciplines use the program to create art while using Virtual Reality. There are quite a few other similar programs, including the Oculus Medium, where amazing artists are doing incredible work.
There are many prominent artists who are working who are working with virtual reality art. Jon Rafman and Jordan Wolfson have both had influential exhibits in museums, despite being virtual reality artists. This shows promise because it illustrates that virtual reality art can exist within the scope of a normal museum, and not simply as something that happens when one is completely isolated from others. Jordan Wolfson created a controversial exhibit called "True Violence" that lets the viewer experience a violent encounter; this project served as a form of social commentary on violence in our society. Another prominent artist is Jacolby Satterwhite. Satterwhite uses virtual reality to allow human avatars to interact with 3D models that he has created. Through his work, Satterwhite provides social commentary on a number of different topics, including racial dynamics and sexuality.
While virtual reality is a rising field in the art industry, there are both advantages and disadvantages to its presence. On the positive side, virtual reality artwork allows people from all over the world to experience the same art from their own personal space, whether that is their school or their home. In times like this pandemic, the ability to experience artwork while being removed from others is very important. On the other hand, a large part of art is the collective group experience, and this is not as possible within the virtual reality space. Even though each person can experience the same piece of art, a disadvantage of virtual reality is that it does not bring people together in the same way as traditional artwork, and can instead even create a divide among people. An example of this can be seen through a powerful photo taken at a virtual reality art gallery in China, where it is clear that no one is interacting with each other, despite all being in the same room and experiencing the same exhibit. In this way, virtual reality can feel like a departure from traditional art galleries and their way of initiating conversation between people.
Augmented Reality
As mentioned before, augmented reality art is different from virtual reality art in that it involves adding digital elements to the real world, instead of creating a new and potentially isolating reality. An interesting aspect of augmented reality art is that it is an art form that allows for collection. For example, an artist could create different characters that are only available in different locations around the world, and for people to collect these pieces of art they would have to hover their phone when they reach the right spot. This can serve as a new form of entertainment for a large group of people. Additionally, the ability to collect augmented reality art provides an economic connection to this sector of art. If people are interested in collecting pieces of art, there is a possibility of monetization for the artists and for the companies distributing the augmented reality software. This economic aspect is very important in a time like this, when the art industry has been negatively impacted by social distancing restrictions.
One prominent art studio that works in augmented reality art is Acute Art. Through their app, Acute Art creates collectible augmented reality art. They also collaborate with prominent artists, who in turn create pieces of artwork that are then available from the app. Kaws, a very prominent artist, recently collaborated with Acute Art to produce a character that was discoverable through the app in eleven major cities around the world (Rea). When using the app, users would be able to see Kaws' distinct character in these major cities. Additionally, users were able to buy the character through the app, which would allow them to use the augmented reality software to place their version of the character anywhere they liked. They could subsequently sell and trade the character they had bought (Rea), illustrating the massive economic potential of this field of art.
Much like virtual reality art, there are both advantages and disadvantages to augmented reality art. One main advantage is that many aspects of AR allow for group interaction, which could give it a leg up over virtual reality art in terms of the collective experience of the art itself. One of the main disadvantages of virtual reality art is that it does not allow for a group experience, instead isolating people, as I outlined earlier. Augmented reality art, on the other hand, allows the user to decide how much they want to be involved with others; the experience can be either solitary or can be very group oriented. Another large advantage of augmented reality art is the possible economic benefits of collection and monetization. Obviously, many artists are struggling during these times, and having another avenue with which they could make income is a very positive element. Finally, a disadvantage of augmented reality art is that there is no established basis for how interested the general public would be in the collectible aspects of these pieces of art, as they purely exist in a digital sense.
Public Domain images to use:
Figure 1: Traditional interactive experience at a museum art gallery. Source: needpix
Figure 2: Museum art gallery with no visitors, an all too familiar sight during the pandemic. Source: needpix
Figure 3: Virtual reality headset. Source: needpix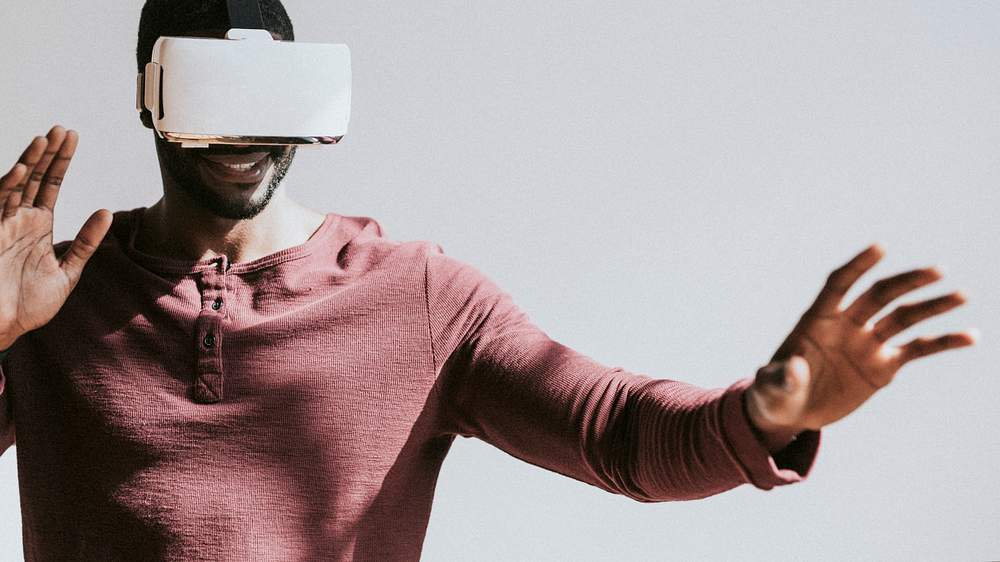 Figure 4: Man interacting using virtual reality, illustrating its potentially isolating nature. Source: rawpixel
Figure 5: The use of augmented reality on a tablet. Source: FLICKR
Sources Cited:
Alpert, Bill. "Coronavirus Is Bad - and Good - for Biotech Stocks." Barron's, 10 Mar. 2020, www.barrons.com/articles/coronavirus-is-bad-and-good-for-biotechs-51583847953.
"Art in Virtual Reality: Is VR the Future of Art Creation and Consumption?" Viar360, 2 May 2019, www.viar360.com/creating-art-in-virtual-reality/.
"Biotech Companies Respond to Coronavirus (COVID-19)." Bio.org, 2020, www.bio.org/policy/human-health/vaccines-biodefense/coronavirus.
Birnbaum, Daniel. "In the Changed World After Lockdown, We Will Need Smarter New Ways to Interact With Art. I Believe Virtual Reality Is the Answer." Artnet News, 22 Apr. 2020, news.artnet.com/opinion/will-need-new-ways-interact-art-lockdown-believe-virtual-reality-answer-1839591.
De Rojas, Carlos. "Analysis: How Has Coronavirus Affected Europe's Biotech Stocks?" Labiotech.eu, 21 Apr. 2020, www.labiotech.eu/medical/biotech-stock-coronavirus/.
Feldhaus, Timo. "Virtual Reality Sickness." Ssense, 29 Dec. 2016, www.ssense.com/en-us/editorial/culture/virtual-reality-sickness.
"Google Tilt Brush: Impossible Now a Reality?" CNN, Cable News Network, 8 Nov. 2018, www.cnn.com/style/article/google-tilt-brush/index.html.
Grant, Daniel. "America's Virtual Museums Take on New Significance as Covid-19 Lockdown Deepens." The Art Newspaper, 18 Mar. 2020, www.theartnewspaper.com/news/covid-19-pushes-museums-to-embrace-the-virtual-world.
Indrisek, Scott. "What You Need to Know about Collecting Virtual-Reality Art." Artsy, 23 Apr. 2019, www.artsy.net/article/artsy-editorial-collecting-virtual-reality-art.
Menickella, Brian. "COVID-19 Worldwide: The Pandemic's Impact On The Economy And Markets." Forbes, 13 Apr. 2020, www.forbes.com/sites/brianmenickella/2020/04/08/covid-19-worldwide-the-pandemics-impact-on-the-economy-and-markets/#4ad77edd28c3.
Mileva, Gergana. "VR Artist Rosie Summers On Art And Virtual Reality." ARPost, 2 Feb. 2020, arpost.co/2020/02/03/rosie-summers-art-virtual-reality/.
Oliver, Laura. "It Could Take Three Years for the US Economy to Recover from COVID-19." World Economic Forum, 30 Mar. 2020, www.weforum.org/agenda/2020/03/economic-impact-covid-19/.
Overland, Martha Ann. "'I Wanted To Do Something,' Says Mother Of 2 Who Is First To Test Coronavirus Vaccine." NPR, 21 Mar. 2020, www.npr.org/2020/03/21/818759617/i-wanted-to-do-something-says-mother-of-2-who-is-first-to-test-coronavirus-vacci.
Pozarycki, Robert. "Museums, Theaters and Other Cultural Programs Face Uphill Battle in COVID-19 Pandemic." AmNewYork, 26 Apr. 2020, www.amny.com/entertainment/museums-theaters-and-other-cultural-programs-face-uphill-battle-in-covid-19-pandemic/.
Prvulovic, Mark. "5 Biotech Stocks Winning the Coronavirus Race." The Motley Fool, 11 Apr. 2020, www.fool.com/investing/2020/04/11/5-biotech-stocks-winning-the-coronavirus-race.aspx.
Raab, Josh. "Virtual Reality Is for Artists." Time, time.com/vr-is-for-artists/.
Rea, Naomi. "KAWS Just Entered the Augmented Reality Game With Giant Virtual Sculptures That You Can See-and Buy-in 11 Cities." Artnet News, 12 Mar. 2020, news.artnet.com/art-world/kaws-augmented-reality-1800375.
Schwarz, Gabrielle. "Where next for Virtual Reality Art?" Apollo Magazine, 4 Apr. 2019, www.apollo-magazine.com/virtual-reality-contemporary-art/.
Sharma, Shashank. "The 10 Virtual Reality Artists You Need to See to Believe." Medium, 26 June 2017, blog.dextra.art/the-10-virtual-reality-artists-you-need-to-see-to-believe-c66cfde4dcb8.
Speights, Keith. "Here Are All the Companies Working on COVID-19 Vaccines, Treatments, and Testing." The Motley Fool, 7 Apr. 2020, www.fool.com/investing/2020/04/07/here-are-all-the-companies-working-on-covid-19-vac.aspx.
"Step into Your Imagination." Tilt Brush Artist in Residence, Google, www.tiltbrush.com/air/.
Talbott, Susan Lubowsky. "Museums Must Adopt New Models to Respond to the Covid-19 Pandemic." The Art Newspaper, 24 Apr. 2020, www.theartnewspaper.com/comment/museums-must-adopt-new-models-to-respond-to-the-covid-19-pandemic.
Thaddeus-Johns, Josie. "A Step Into the Unknown, With Virtual Reality." The New York Times, 26 Apr. 2019, www.nytimes.com/2019/04/26/arts/design/virtual-reality-art.html.
"The Economic Impact of Coronavirus on the Arts and Culture Sector." Americans for the Arts, 18 Mar. 2020, www.americansforthearts.org/by-topic/disaster-preparedness/the-economic-impact-of-coronavirus-on-the-arts-and-culture-sector.
"Virtual Reality."
Tate
,
www.tate.org.uk/art/art-terms/v/virtual-reality
.